NEW NEWS
July 4:
Hesterglock Press publish
Partial Leaves from The Gospel of John Vol. 1
by John Murry & Will Russell
June 30: European Poetry Festival: Slovenian Poetry Celebration
With new poetry and performance collaborations by Andreja Štepec and Vik Shirle, Nika Prusnik Kardum and Ali Graham, Milan Šelj and Cherry Smyth, Martin Wakefield and Paul Hawkins, Thomas Helm and Giles Goodland, Lisa Blackwell and Beverly Frydman & Mathura and Rishi Dastidar - 19:30 at OPEN Ealing Arts Centre, Unit 14 School Ln, Dickens Yard, London W5 2TD
openealing.com
free entry, more information
here
June - Sept: ARTIMENTAL ON

E
6 Poem Brut-ish workshops held at Eachwhat Studio culminating in an exhibition/event.
March 26 - April 27:
Holding Patterns book launch & print exhibition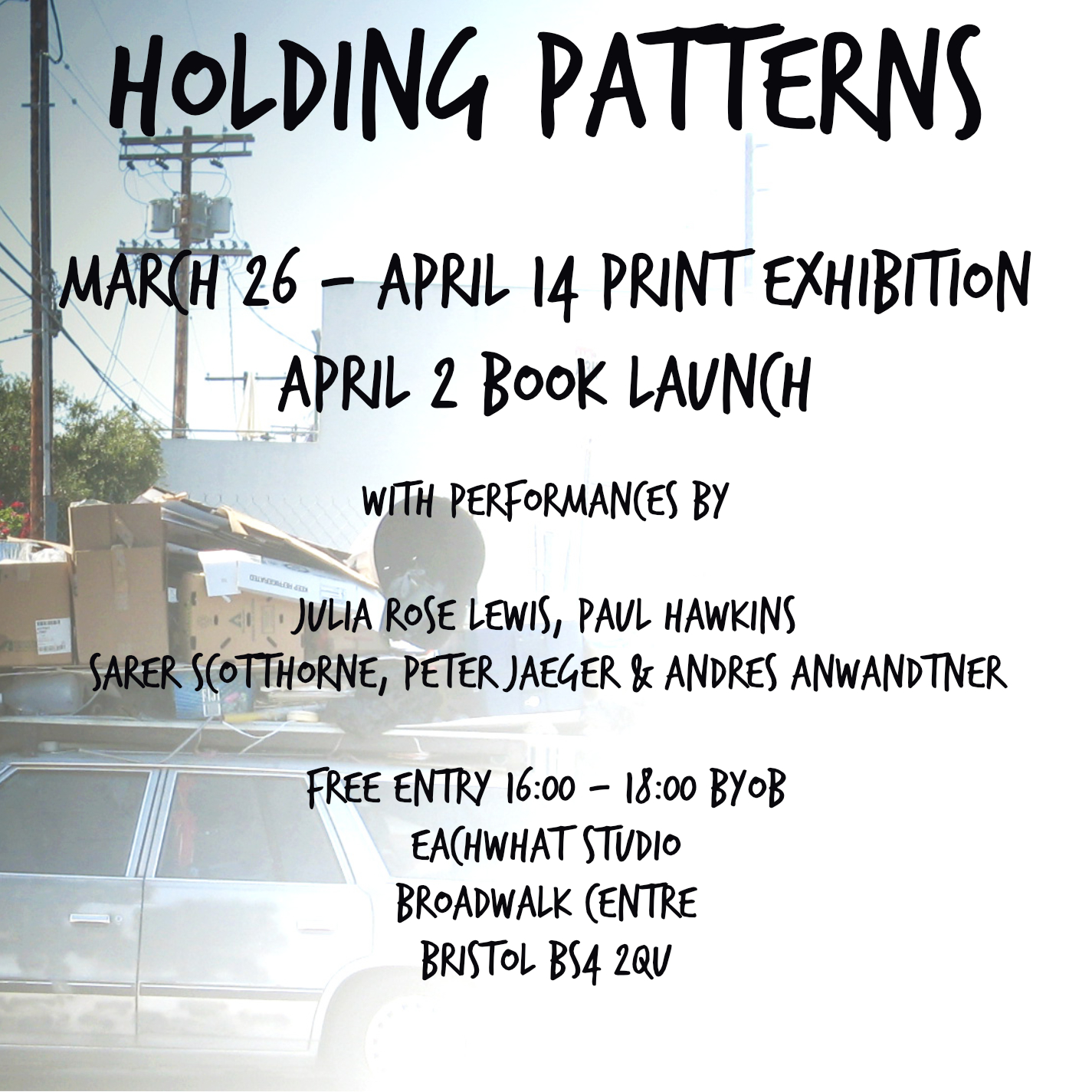 March 10:
Centre For Print Research Print in Conversation with Angie Butler and Paul Hawkins in the Print/Publishing space, C Block, Bower Ashton campus, UWE, Bristol, 12.30-1.15. Publishing, Poem Brut, Eachwhat Industries and much more. Free, all welcome. Film available soon.
Feb 23:
Bill Drummond's Forty Minute Interview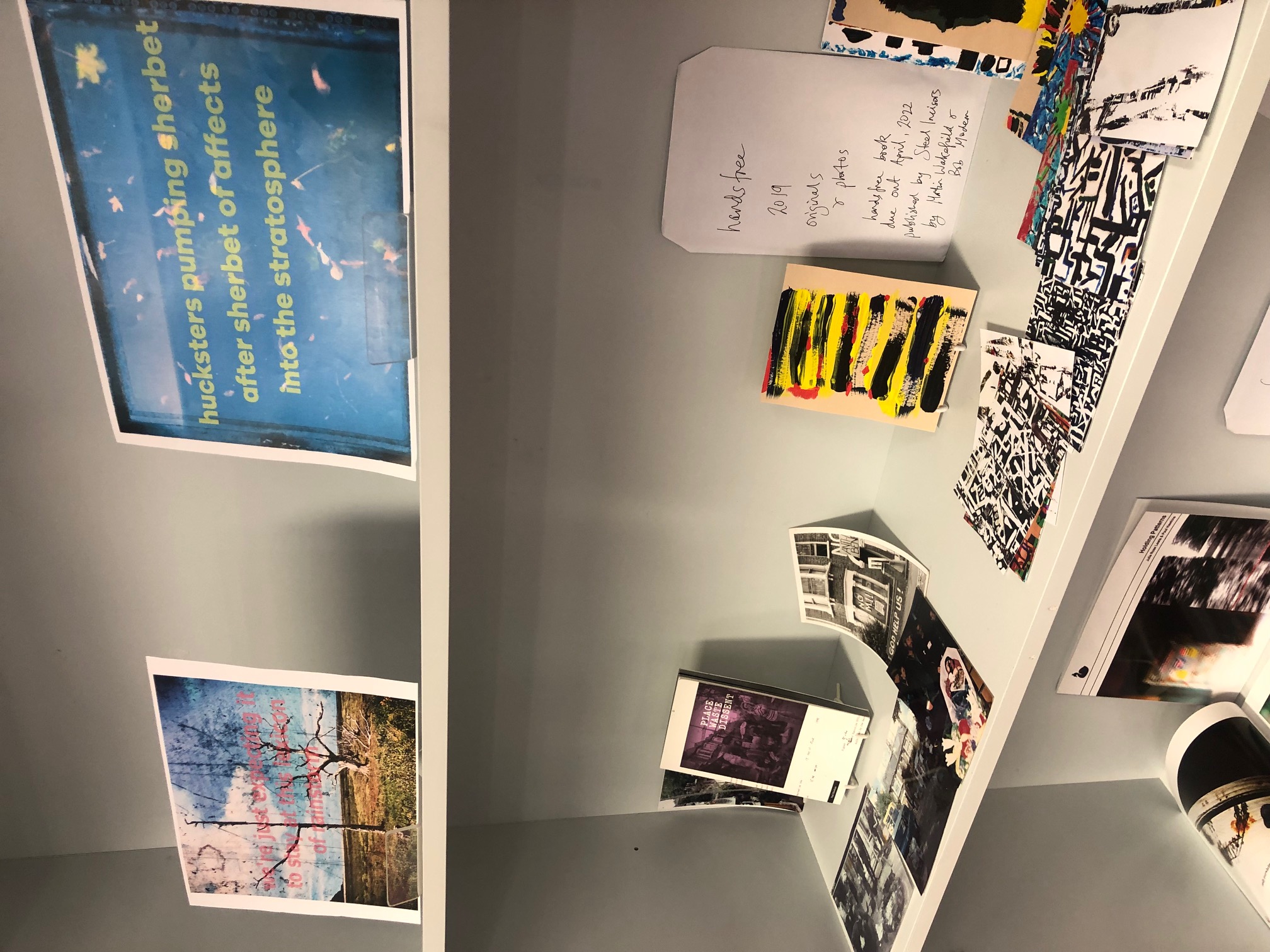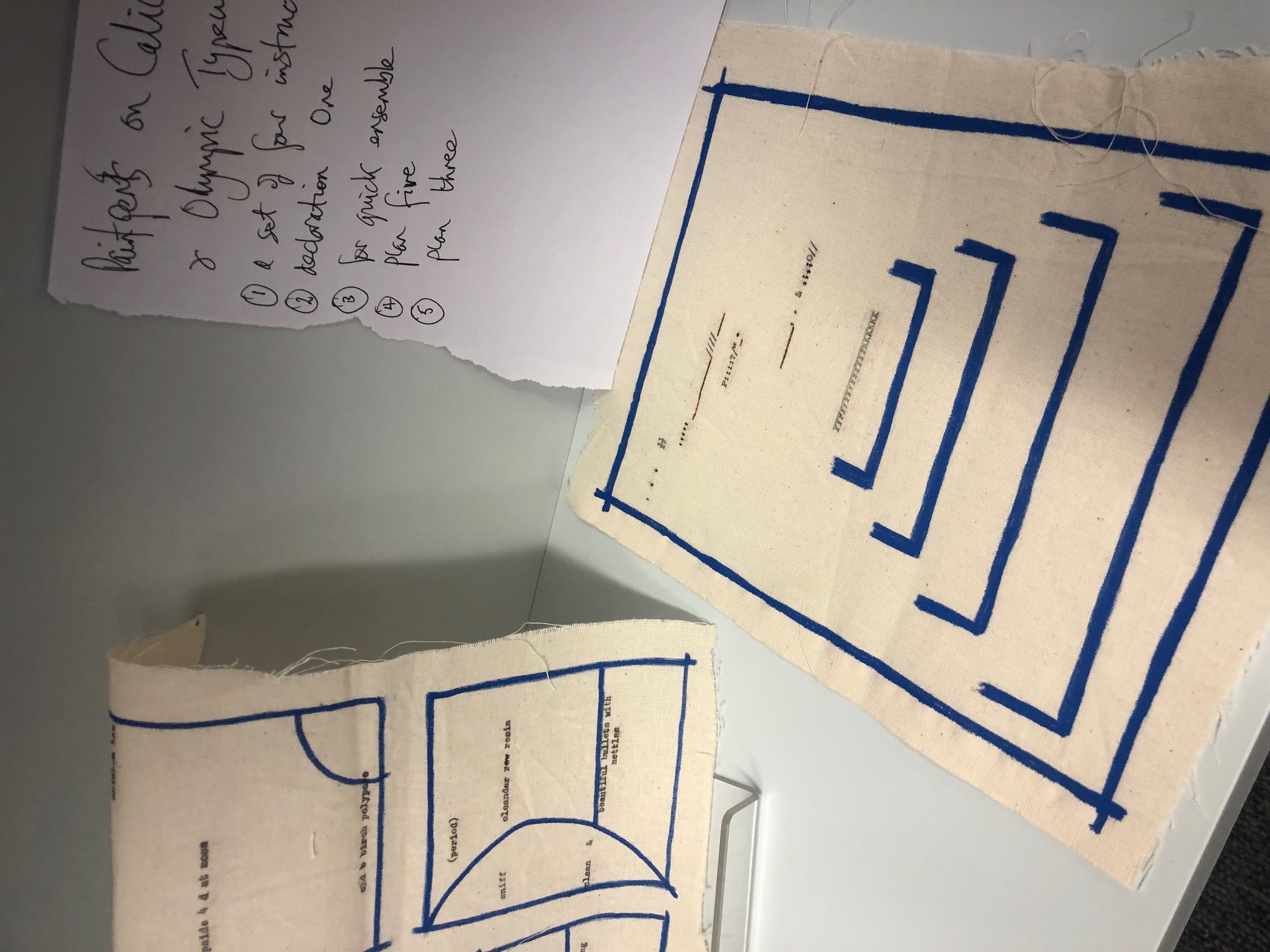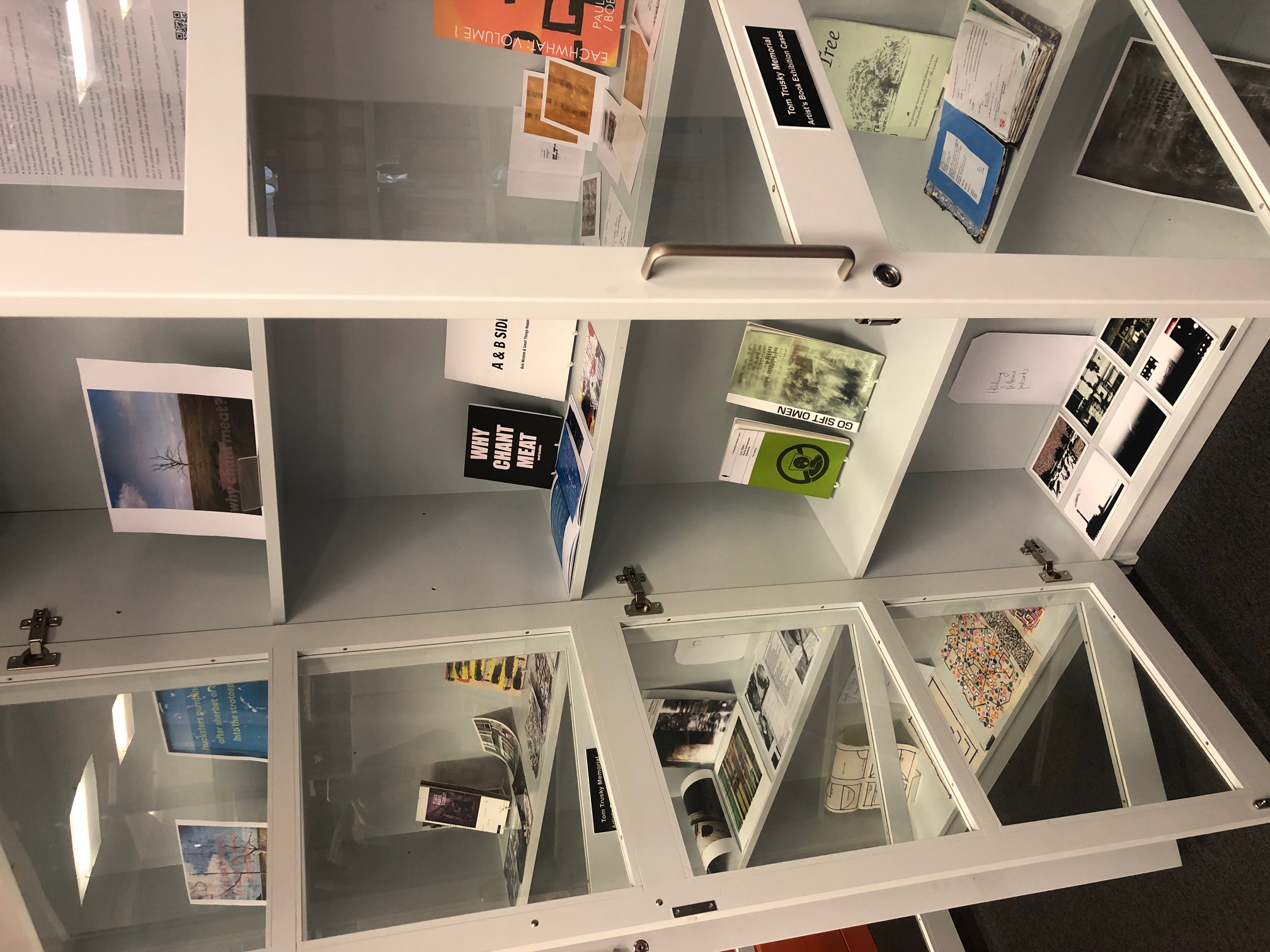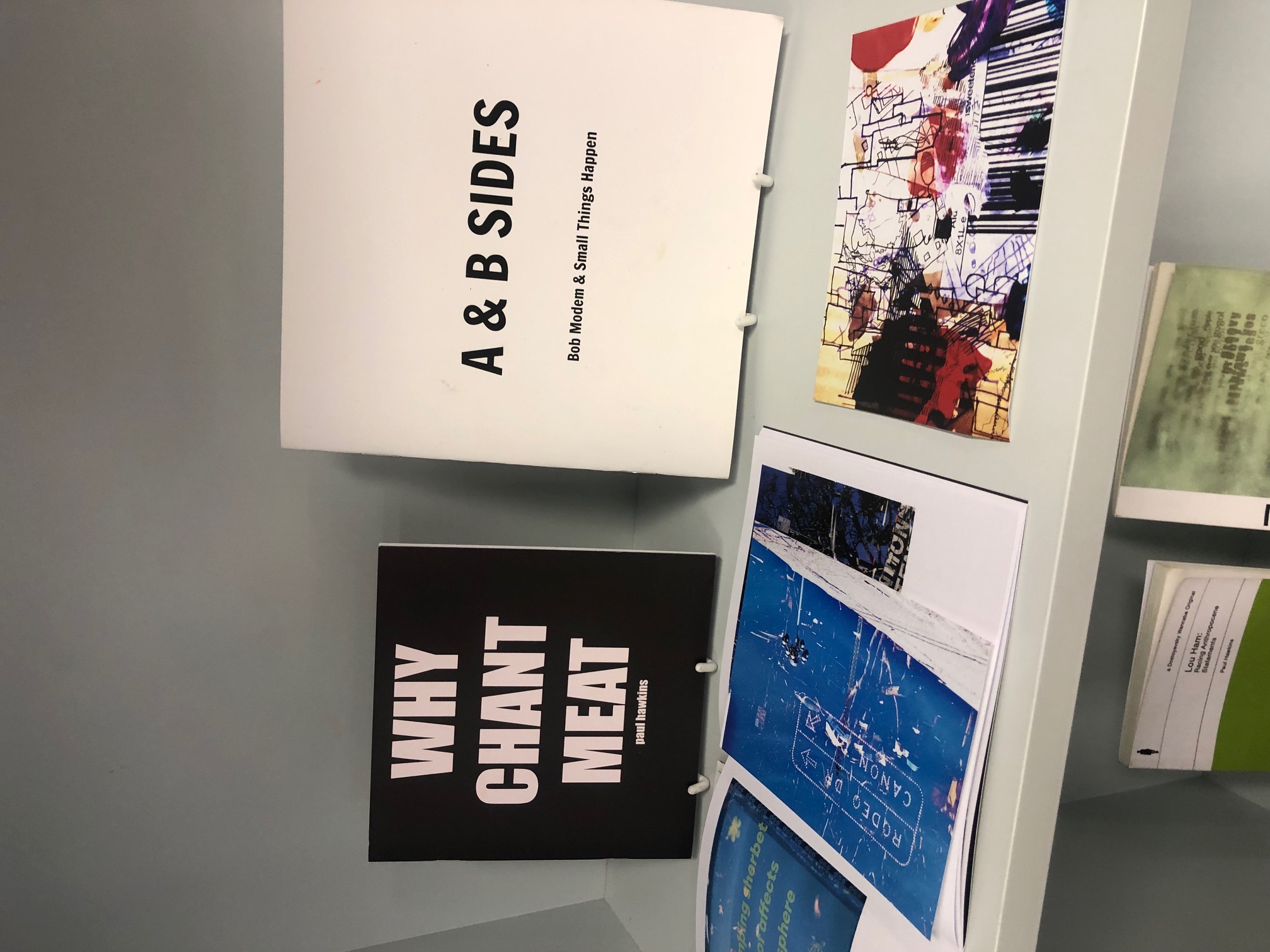 (photos: Angie Butler)
Feb 1 - March 1 2022
ARTIST BOOK EXHIBITION
I'm the featured artist in the Bower Ashton Library showcase at the Centre For Print Research, UWE, Bristol, UK - for details on the exhibition, open daily 9 - 5pm, download the latest Book Arts Newsletter
here
Feb 19 - March 26
Rezia Wahid MBE
WEAVING LIGHT INSTALLATION
EW Studio
, Mon - Sat 10 - 3
Feb 19 WOVEN POETRY WORKSHOP
Join Rezia Wahid MBE from 11:30-13:00 and/or 14:30-16:00 and weave your personal words or visual lines on a 2 metre square wooden frame using recycled materials to create a public art tapestry. The activity is suitable for all ages, you don't need to 'know' how to weave or write poetry. Rezia will be launching her installation and give a guiding hand on the weaving frame. EW Studio, Bristol. Free.
Jan 27 - April 3 2022
INTERSECTIONAL GEOGRAPHIES
I've a poem in this Jacqueline Ennis Cole curated exhibition catalogue currently on at the Martin Parr Foundation, Bristol, details
here
Linda Parr's
Postcards for Perec
group exhibition (which includes my contribution) is now installed in
The Street Gallery
at the Locksbrook Campus of Bath Spa University from Jan 19 - Feb 3. Tickets are pre-booked
here
April 2: EWI Studio, Holding Patterns w/ Julia Rose Lewis book launch event and exhibition
info
April 15: EWI Studio,
handsfree
(Steel Incisors) w/Martin Wakefield book launch, prints & performances, details TBC
2021
A & B Sides with Small Things Happen
info
Why Chant Meat - Paul Hawkins
info
7 Sketches for Short Xmas Songs with
Peter Jaeger,
listen
A blog for Bristol Ideas on my Residency at Knowle West Media Centre / Working Class Writers Festival is
here
Holding Patterns work at
Serendip Studios
Work in the Text-Isles exhibition, Greece, more
info
Dec 16
A short blog piece for Bristol Ideas on my Writers Residency for Knowle West Media Centre / Working Class Writers Festival. You can read it

here
Dec 10
Beir Bua Press book launch w/Julia Rose Lewis & Paul Hawkins, JP Seabright, Templeton Moss & Andrew Rihn on Zoom at 8pm, register for tickets

here



Nov 28
Holding Patterns, a selection of collaborative work with Julia Rose Lewis is published by Beir Bua Press today. Get a copy

here



Nov 20
I've a poem in Jacqueline Ennis Cole's Intersectional Geographies photo exhibition catalogue, due to open Jan 2022 at the Martin Parr Foundation (January - March 2022)

Nov 2︎︎︎



Oct 26
Very proud to have some new collaborative work with Julia Rose Lewis published at

Serendip Studios

today. These are taken from

Holding Patterns

, our forthcoming book to be published by Ireland's premier experimental/visual poetry publisher, Beir Bua Press on Dec 9.

Oct 21
Thanks to Sue McKinnon for writing this piece on my Writer in Residence role for Knowle West Media Centre / Bristol Ideas over at #theknowledge #knowlewest read it here



Oct 19 I shined shoes at the Seen As Read anthology launch.



Oct 17
A wonderfully generous, eclectic and warm-spirited opening Poem Brut event took place at EWI Studio. Thank you to everyone who came along, read, performed, clapped, bought books and took part, making it a very special evening. Watch all the performances

here



Oct 4
Paul is Knowle West Media Centre/Working Class Writers Festival writer-in-residence, working with local community members until Nov 14

Aug 10
EACHWHAT INDUSTRIES new studio/exhibition/performance space in Bristol - more details

here



Aug 5
Work has begun on a new collaborative project, Holding Patterns with Julia Rose Lewis

Aug 2
BRLSI, Bath - SJ Fowler Bastard Poems (Steel Incisors) book launch event w/ANGIE BUTLER, MAX PORTER, LUCY ENGLISH, PETER JAEGER, PAUL HAWKINS, JAMES KNIGHT, CARRIE ETTER, DAVID SPITTLE, ANDRES ANWANDTER & SJ FOWLER ltd to 50 guests

more info



July 24
New work finished for Text-Isles group exhibition in Greece. Paint pens on Calico. Catalogue published. More details

here



July 23
I contributed work to

Mercurius No. 1

: Is this the stuff dreams are made of? (Mercurius, 2021) anthology contributor buy

here



July 20
Beir Bua Journal have published some of my Photo Poems

here

, with thanks to editor Michelle Moloney King.

JULY 15
A preview of

Seen as Read

anthology (KUP, Nov 2021) performance event on Aug. 14 at

Open Ealing

, Unit 14, School Lane, Dickens Yard, W5 2TD West London w/performances from Mikael Buck, Chris Kerr, Beverley Frydman, Susie Campbell, Paul Hawkins, Vicki Kaye, Lynette Willoughby, Madelaine Culver, Martin Wakefield, Simon Tyrrell, Bob Bright, Kayleigh Cassidy, and travel permitting, David Hayward, Laura Davis, Emma Hellyer and Sylee Gore. Plus a special appearance by Richard Marshall.

July 1 - Aug 31
Postcards for Perec at UWE, Bower Ashton Library, Bristol. In the 40th anniversary of the passing of Georges Perec, new postcards have been made in response to Perec's 1978 work Two Hundred and Forty-three Postcards in Real Colour. I'm a contributor to this brilliant, timely group exhibition with a printed catalogue to follow.

July 3 - 31
Poetry Without Words exhibition at Boston Tea Party Cafe, Stokes Croft, Bristol daily between 8 - 5- all work made by participants of #PoemBrut workshops for Second Step Bristol Recovery College, workshops run by Ali McAllister & Paul Hawkins, preview

here



JUNE 17
Photo Poetry SURFACES catalogue published ︎︎︎

more info



JUNE 17
WHY CHANT MEAT by Paul Hawkins published by ︎︎︎

Hesterglock Press



JUNE 17 - DEC 31
Photo Poetry SURFACES exhibition - part of the Bristol Photo Festival 2021 featuring works by Liz Berry / Tom Hicks, Jamila Lyiscott / Laurent Chevalier, Vik Shirley, Silje Ree, James Knight, Astra Papachristodoulou, Sarah Cave / Dragana Jurisic, Amak Mahmoodian, Sophie Herxheimer / Chris McCabe, Paul Hawkins & SJ Fowler / Bård Torgersen ︎︎︎

more info



MARCH 31
"a celebration of friendship and community as it is an homage to those neglected by Thatcher's government and the political ideology that outlived it. Containing not only the same iconic images, introspective diary entries, and powerful poems of the original collection, but a stunning selection of artworks created in response to it" Madelaine Culver reviews mine & Steve Ryan's

Place Waste Dissent & Diisonance

(2nd expanded edition) over at The Babel Tower Noticeboard. Thanks Madelaine.

MARCH 6
CONSIDER NO POETRY DAY Oct 6 ︎︎︎

more information



MARCH 01
Photo Poetry SURFACES curated by David Solo, Astra Papachristodoulou & Paul Hawkins announced as part of the Bristol Photography Exhibition 2021. An online exhibition, performances & debate -

more details



FEB 26
Anthology Review Rhian Williams on Pomes & Joys - a celebratory anthology of poetry & essays for Anna Mendelssohn [Fathomsun Press PDF] at

Spamzine

. All proceeds go to the Estate of Anna Mendelssohn.

BUY



FEB 2021
Poem Brut Workshops
Third series of 6 Poem Brut workshops delivered to learners at Second Step Bristol Wellbeing College. See previous work

here

& the online exhibition

here



JAN 2021
New collaboration
A collaboration with Peter Jaeger begins

2020

NOV 3︎︎︎
Poem Brut update
Steve Fowler on Phase 3 of Poem Brut. Take a look

here



OCT 30 – NOV 1︎︎︎
XII Prague Microfestival
International Writing, Art, Film, Theory and Performance feat. Enis Maci, German Sierra, Artis Ostups, Dragana Mokan, Paul Hawkins, Sarer Scotthorne, Jo Blin, Nastasa Velikonja, John Treft, Autopoetik, Nina Dragičević, Michael John Rowland, Kira Pietrek, Richard Makin, Mark Horvath & Adam Lovasz, Robin Mackay, Sheila Mannix, NØIR, Richard Marshall & Simone Hutchinson & more - full online programme

here

. Paul is reading Saturday Oct 31 @ 16:00 UK time

SEPT 4 - JAN 31︎︎︎
Work from

EACHWHAT Vol. 1

is in the Knives Forks and Spoons Press group exhibition, which forms part of the Blackpool Illuminations, installed on Blackpool's famous cliff section at the North Shore.

AUG 4︎︎︎
EACHWHAT Vol.1 is published today, for more info & how to buy a copy, take a look

here



JULY 31︎︎︎


NeoptiCo Collectiv

is taking shape. Launch exhibition @ Poem Atlas Aug 15 - Sept 5, view

here



JULY 16 - AUG 9︎︎︎
Mellom Press curate

HOME

a multilingual visual poetry exhibition includes new artwork by Bob Modem from the Street Maps of Neoptica series.

JUNE 28︎︎︎
Work continues on

HANDSFREE

, a collaborative project, still developing, which takes its starting point translations from Part I of Les Mains Libres by Paul Éluard & Man Ray (Gallimard, 1947) by Martin Wakefield, & is then deconstructed by Bob Modem.

JUNE 4︎


Place Waste Dissent & Diisonance

is published today by Hesterglock Press; an updated, expanded second edition includes collaborative work from Sarer Scotthorne, as well as Paul & Steve Ryan's

DIISONANCE

project.