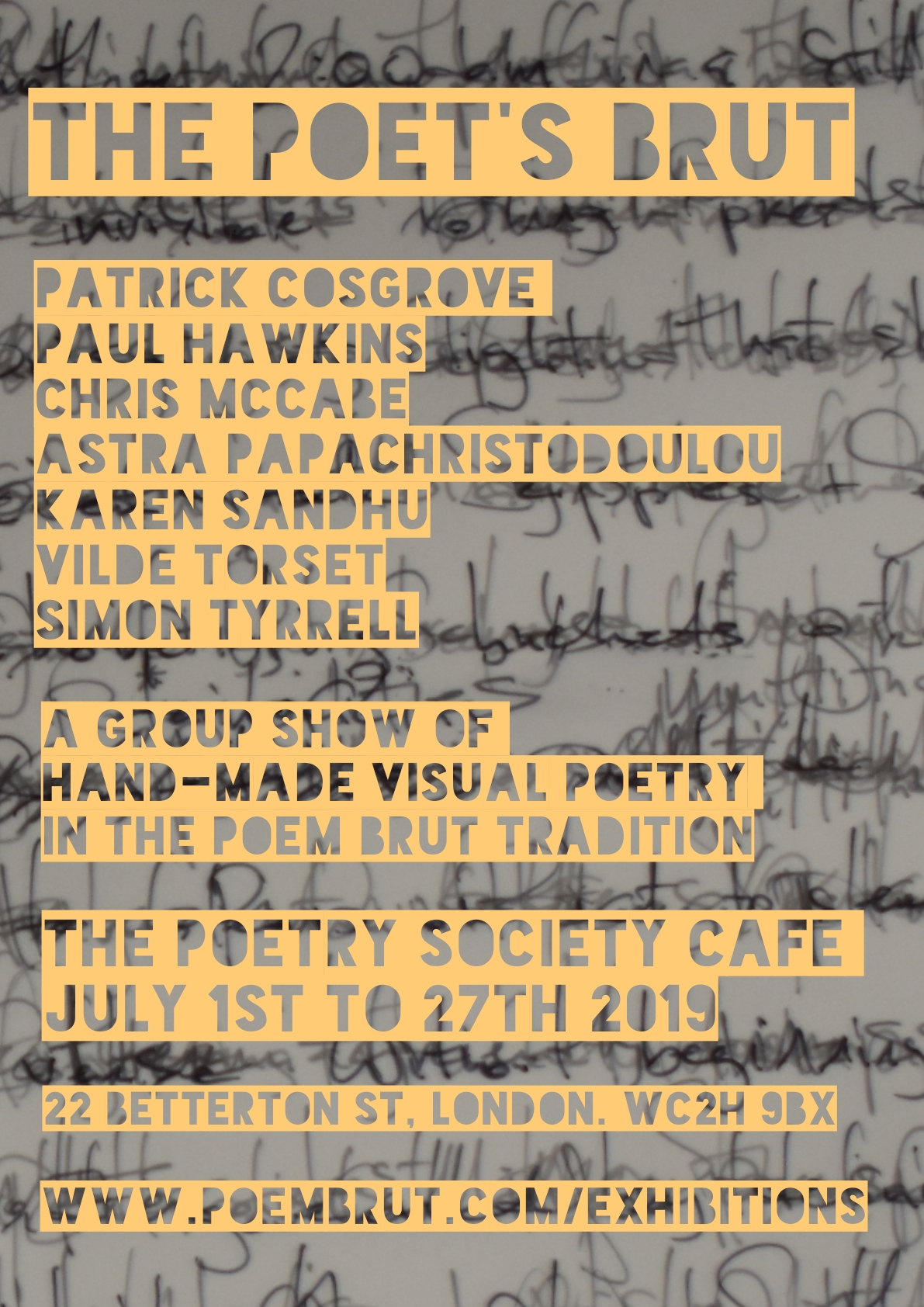 Group:
July - August 2021 :
Postcards for Perec
at UWE, Bower Ashton Library, Bristol. In the 40th anniversary of the passing of Georges Perec, new postcards have been made in response to Perec's 1978 work
Two Hundred and Forty-three Postcards in Real Colour.
Sept 4 - Jan 31 2021 : Work from EACHWHAT Vol. 1 is part of the Knives Forks and Spoons Press exhibition in lightboxes as part of the Blackpool Illuminations, installed on Blackpool's famous cliff section at the North Shore.
July 16 - Aug 9 : Mellom Press curate
HOME
a multilingual visual poetry group exhibition includes artwork by Bob Modem from the Street Maps of Neoptica series - more details to be announced
May 15 - June 5 : ESCAPISMS - an online exhibition featuring Sarah J Sloat, Maggs Vibo, Chris Kerr, Lisa Golze, Emma Filtness, Paul Hawkins, Andrés Felipe, Üribe Cárdenas, Andrew Dyer, Briony Hughes, Astra Papachristodoulou, Michał Kamil Piotrowski, Julia Nakotte, Manuela Zammit, Paolo Montanari, Kate Siklosi, Yasmine Seale, Pavel Zarutskiy, Jon Stone, Tor Lukasik-Foss, Kimberly Campanello, James Kearns, indigo eli, Amanda Earl, Gary Barwin and Simon Frank. Curated by Astra Papachristodoulou.
Corrupted Poetry
present F A K E
to be rescheduled due to Covid 19: featuring Will Harris, Luke Kennard, Amy Key, Phoebe Stuckes, Fiona Larkin, Mark Chamberlain & Fractured Strings includes performances, a pop-up exhibition and a ltd. edition pamphlet
October Gallery 24 Old Gloucester Street, Bloomsbury LONDON WC1N 3AL
NOTATIONAL LITERATURE, THE UNFINISHED WORK The 4th annual Museum of Futures Exhibition
FEB 18 – MARCH 10
Launch event Feb.18th 2020
–
7pm / free entry
Museum of Futures
117 Brighton Rd, Surbiton KT6 5NJ
HESTERGLOCK @ NECK OF THE WOODS
FEB 3 – MARCH 30: Hesterglock Press exhibition includes a dozen or so Hesterglock Press books to view and read, along with artworks by Sarer Scotthorne & Paul Hawkins
Neck of the Woods Community Cafe
, St. Werburgh's Community Centre, Horley Rd, St. Werburgh's, Bristol BS2 92J
TEMPORARY SPACES
JAN 20 – FEB 22 w/launch event JAN 29 2020 free
feat. Sarah Dawson, Silje Ree, Claire Collison, Stephen Emmerson, James Knight, Michelle Penn, Simon Tyrrell, Paul Hawkins, Astra Papachristodoulou and Nic Stringer
The Poetry Café, 22 Betterton Street London WC2H 9BX
Temporary Spaces
showcases works that merge poetry and visual art from some of the most exciting contemporary poets in the UK right now. The contributions of the exhibition explore broad interpretations of space as a point of transformation between body and the temporal.
To purchase a unique exhibition catalogue pub. by Pamenar Press, take a look
here
AN INVISIBLE POETRY: SJ FOWLER AND POET'S BRUT
JULY 1 – AUG 31 2019
featuring Chris McCabe, Karen Sandhu, Simon Tyrrell, Astra Papachristodoulou, Patrick Cosgrove, Vilde Valerie Bjerke Torset and Paul Hawkins
The Poetry Café, 22 Betterton Street London WC2H 9BX
POTOS
FEB 17 – MARCH 13 2019
Explorations in handwritten poetry & analog photography
Museum of Futures, 117 Brighton Rd, Surbiton KT6 5NJ
INSTAPOETRY
APRIL 26 – JULY 1 2018
the world's first Instagram poetry exhibition, showcasing the best of over 1,000 Instapoetry submissions
The National Poetry Library, Southbank Centre, Belvedere Road, London SE1 8XX
POEM BRUT AT SPIKE ISLAND
MAY 5 2018
exhibition, workshop & performances
Spike Island, 133 Cumberland Road, Bristol BS1 6UX
SCRIBBLING AND SCRAWLING
FEB 22 – MARCH 21 2018
The annual Museum of Futures visual poetry exhibition
Museum of Futures, 117 Brighton Rd, Surbiton KT6 5NJ
HARD TO READ
JAN 13 (performance night) 2018
Collected Paint Poems, Pansemia, Cinematic Drawings and Logograms of SJ Fowler
Rich Mix Gallery, 35-47 Bethnal Green Rd, London E1 6LA
END||BEGIN
MARCH 17 – APRIL 9 2016
Scratch the Surface Mental Health Arts Festival 32 City Arcade, Coventry, CV1 3HW
Solo & Collaborative
DIISONANCE
SEPT 1 – SEPT 30 2017
collaborative artworks/performances/book launch: Steve Ryan and Paul Hawkins
The Gallery Cafe, 21 Old Ford Rd, London E2
DIISONANCE
JUNE 21- JUNE 24 2017
SIX project space residency: collaborative artworks/performances/workshop: Steve Ryan and Paul Hawkins
Bank Street Arts, 32-40 Bank Street, Sheffield S1 2DS
PLACE WASTE DISSENT
OCT 5 – OCT 8 2016
collage art & experimental text featured in Place Waste Dissent (Influx Press 2015), readings and film screenings of Life In The Fast Lane: The No M11 Story (dir: Neil Goodwin, Mayyasa Al-Malazi) & Blight (John Smith/Jocelyn Pook)
Bank Street Arts, 32-40 Bank Street, Sheffield S1 2DS
PLACE WASTE DISSENT
NOV 10 – DEC 12 2015
collage art & experimental text featured in Place Waste Dissent (Influx Press 2015) & book launch
The Arts House, 108A Stokes Croft, Bristol BS1 3RU
BOURNEMOUTH EMERGING ARTS FRINGE
OCT 27 – OCT 31 2015
line & mass
w/SIX Gallery artists
Meyrick Hall 45 Christchurch Rd, Bournemouth BH1 3PA