CURRENT EXHIBITION


Sept 16 - Nov 16: Michael Harford - Selected Collages
A selection of collage art by Michael Harford. More work on Michael's blogs here
Coffee Messiah
&
The World is a Town
I had the privelege to collaborate on a project, 50 // Fifty, with Michael for a year or so:
50 // fifty is a collaboration between Paul Hawkins & Michael Harford
//
Paul wrote 50 words a day for 50 weeks in his 50th year on this planet between April 2013 & April 2014
//
every week he sent Michael one of the texts
//
Michael responded with a collage
The project was published by Hesterglock Press in 2016. More details
here
A selection of Hesterglock Press published books are on sale
Community Wall - come in and scribble, scrawl, draw, paint, sketch, grafitti, write a story, your name, colour, make your mark!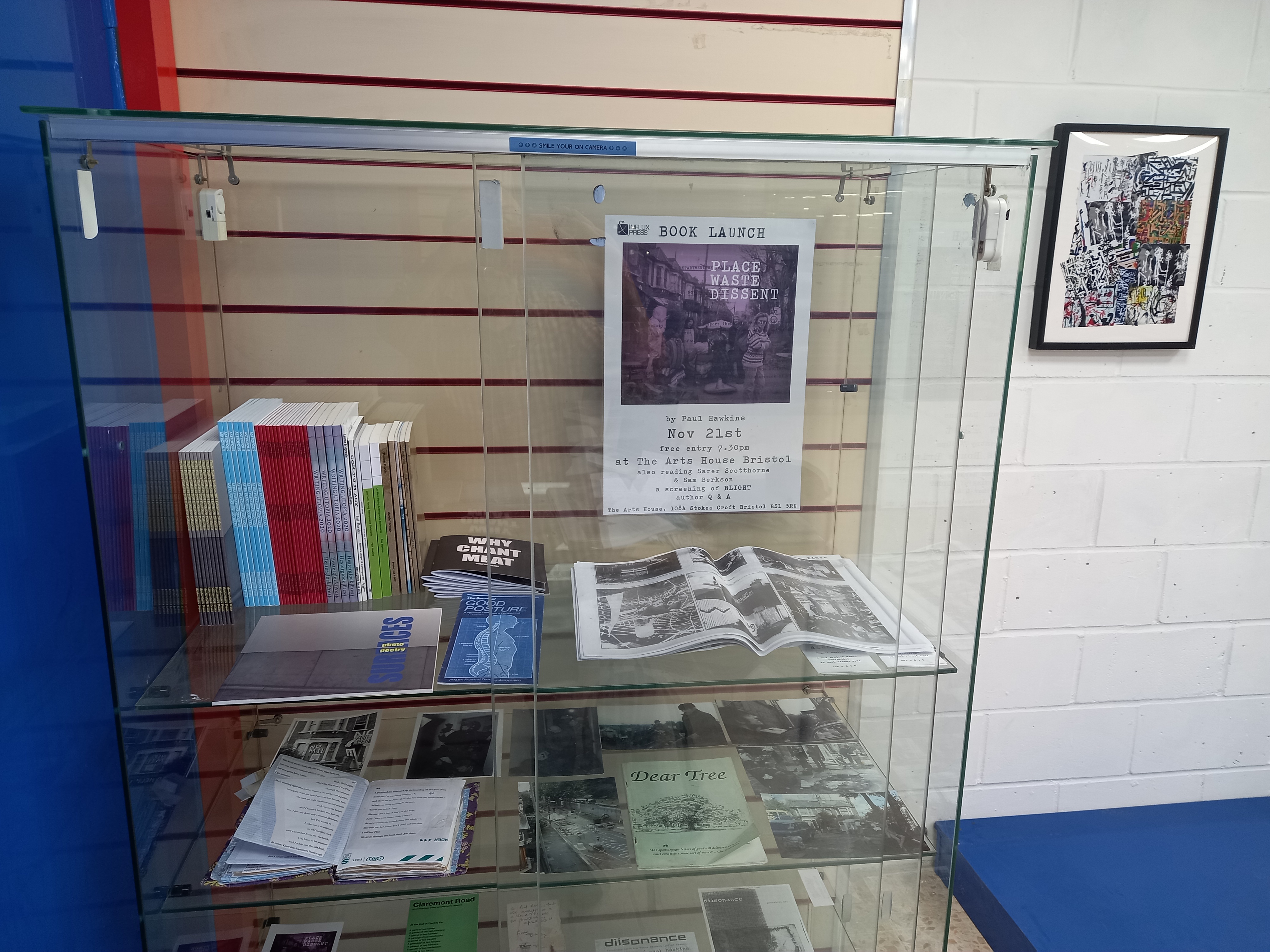 This old newsagents is now Eachwhat Industries Studio, and will soon be an office, studio, exhibition and events space in Bristol run by Paul Hawkins. Poem Brut events and workshops are planned, as are local community-based visual poetry workshops, exhibitions by other artists, book launches, performances and other happenings taking place on a regular basis. Hesterglock Press published books are available to buy.
Opening hours to be confirmed.
Paul is an experienced workshop facilitator in Visual Poetry & Poem Brut. If you'd like to find out more about what he can offer 1:1 or larger groups, ask him a question or just say hi, please contact
him via email
or call him on 07826 124827.
It's been made possible by
Hypha Studios
, a charity that matches artists with empty spaces to regenerate the high street through the formation of cultural hubs with programming to engage local communities.
Contact
email:
hesterglock@gmail.com
mobile: 07826 124827
︎
︎
︎
Within the Broadwalk Centre there are other artists using empty shops through Hypha Studios:
Owl on the Roof Theatre Group
Chris Littlewood
& Natalia Mamcarczyk
Tangle Immersive
Aerth
Tom Skipp
Rachel Nee
David Griffiths
---
EVENTS @ EACHWHAT INDUSTRIES STUDIO

Oct 6 ALL DAY EVENT

NO POETRY DAY
Does this anything to you?
If so, what?
---
Oct 15 19:00 - 20:45 free
POEM BRUT in BRISTOL
An extraordinary group of poets, writers and artists, all based in the Bristol area region, present an evening of new experimental literary performance works, made for the night. A true range of what's possible in contemporary British-based poetry will celebrate collage, liveness and textual play.
readings and performances from
Charles Putschkin,
Paul Hawkins, James Knight, Vicki Kaye, Tom Weir, Peter Jaeger, Dominic Jaeckle, Sarer Scotthorne, Angie Butler, Susie Campbell, Simon Tyrrell, Aaron Kent, SJ Fowler and Martin Wakefield
---
---